Change your business for the better – faster.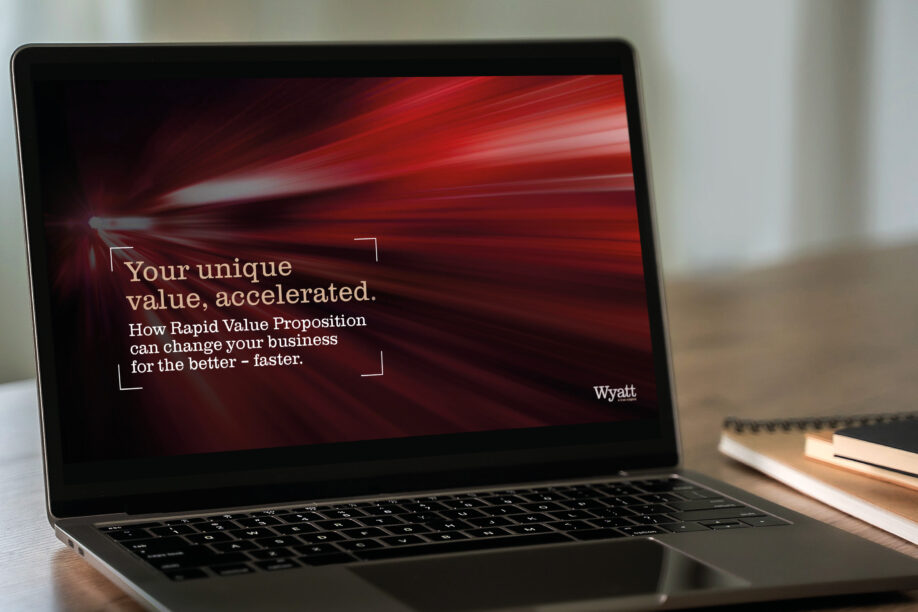 Launching our latest playbook: Rapid Value Proposition. A fast-track alternative to traditional value proposition development.
The world has changed. Business has, too. B2B brands must be adaptable and agile, with the ability to respond intelligently to customer challenges. To do this, you must be ready and able to differentiate yourself in an ever-evolving market.
Let's get started: what defines your business?
A simple question with – more often than not – a plethora of answers. Your distinction isn't created by virtue of a carefully woven strapline, nor is it an ethos – it's not anecdotal. There is only one real answer: it's the value your brand delivers to customers. This value proposition is your foundation; it's true, tangible, and uniquely yours.
So, what happens when your foundation needs refinement and not reform? How do you take your value proposition and evolve it to keep pace in a rapidly changing world? That's where we step in.
Evolving your brand promise.
Rapid Value Proposition (RVP) is a fast-track alternative to traditional value proposition development. Building on your current, overarching proposition, we take a focused and streamlined approach to evolving your brand promise. We define and deploy an in-depth proposition, quickly and effectively with real-world feedback.
Our objective is to provide flexibility and agility with minimal risk, while accelerating value for your customers. RVP brings immediate, relevant focus, enabling you to respond to customer challenges more efficiently.
How does it work?
In six weeks, we'll take you from concept to completion. Through workshopping and exploration, prototyping and consulting, we can learn what drives your business and establish the foundations of your RVP. And with a creatively packaged proposition, we can conduct multichannel A/B tests to determine how best to engage with your customers, creating brand value that resonates to drive long-term results.
The RVP process remains true to your business values, its people and assets, while negotiating an unpredictable market. No, we cannot accurately predict tomorrow. But with a rapid value proposition, we can help you navigate it.
Want to find out more? Just get in touch with us at hello@wyattinternational.com.