Sustainability; the biggest challenge and opportunity for B2B brands.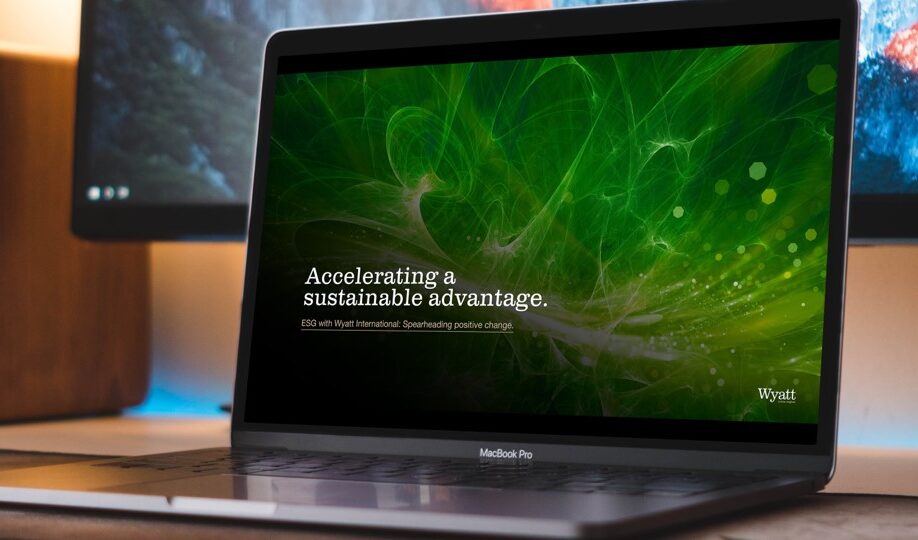 Launching our latest playbook: Accelerating a sustainable advantage.
Accelerating a sustainable advantage.
We each have a vision for our future. A future that is renewably powered, where products and production systems replenish naturally. A future where consumption is a good thing.
Tackling the climate crisis is our greatest challenge. B2B businesses are standing at the precipice, peering through a narrowing window of action. However, there are plenty of opportunities to make real, positive change.
ESG at the heart of corporate culture.
The climate crisis is urgent. Rapid action is required to reduce environmental risks and withstand its impact. A clear, concise ESG strategy must be at the heart of corporate culture and a circular economy embraced.
Every business is at a different stage in realising its sustainable vision. Whether an established brand, SME, or a start-up, organisations and individuals must adopt new ways of thinking and new technologies. The ESG story must be told in a more compelling way.
In our latest playbook, we've explored the steps B2B businesses must take to accelerate and maintain a sustainable advantage.
How do we do it?
We develop market and customer-led sustainability strategies that will have a lasting, positive impact. Our ESG-focused services contribute to the circular economy and help drive cultural change within an organisation.
We partner with sustainable visionaries to identify ESG challenges, develop strategies and create compelling propositions. Propositions that truly deliver on their promises. Drawing on our ESG and circular economy consultancy experts, we employ creative thinking and tactical delivery that helps drive the change businesses need to see.
Sustainability defines our future.
We're supporting clients with ESG initiatives across a vast array of B2B sectors and industries. From defining new product criteria for sustainable product ranges to supporting senior leadership teams with global strategies.
Find out how we can help you accelerate change and create a positive sustainable advantage.
Want to know more? To request our playbook: Accelerating a sustainable advantage, get in touch: hello@wyattinternational.com