From A to Zentia
Rebranding one of the best known names in construction.
Given a five-year deadline for transitioning its brand and products to a completely new company, one of the world's best-known names in construction asked Wyatt to reimagine its business.
The story.
Wyatt was working with Armstrong when global leader Knauf acquired Armstrong World Industries' ceilings business outside the Americas. However, the European Commission was concerned that the new 'super' company would affect competition. In response, Knauf divested Armstrong's UK-based plants producing mineral fibre tiles and grids, along with the sales teams and customer base in several key territories. This separated operation was allowed to trade as Armstrong Ceiling Solutions, but for five years only. The management team asked Wyatt to help build a new, replacement business and successfully migrate all existing brand equity and customer loyalty.
All this, and with coronavirus and Brexit not so very far away…
Armstrong found itself in a unique position: a strong and established past – and a future that was its own to reimagine. To make the most of this, the business needed a brand built on its heritage, but one that also gave it a fresh start, opening up new opportunities to explore.
The thinking.
Our objectives were clear. To reassure customers that the new business was built around the same products, people and services – but was more agile and responsive. And equally, to unite and excite employees about future direction and potential. Key stakeholder engagement was critical to this. Working closely with the CEO, directors and the Head of Marketing of Armstrong Ceiling Solutions, we established a carefully planned five-year strategy for brand and product migration. We also interviewed customers, evaluated the marketplace and held workshops with employees. Finally, we helped present this strategy to Aurelius, a private equity investor who had recently purchased the business. They approved, and our brand strategy and business transformation process began.

The execution.
We had a clear, phased brand strategy and business product migration – now we just needed to create the foundations of the new business. And so Zentia was born, complete with brand architecture, design system, and a 'Brand Axis' to define the philosophy. We also developed a multichannel strategy and content marketing plan to deliver key messaging based on the new brand story – 'reimagine reality'. Zentia presents itself as an agile and digital-first business that's able to transform the experiences of customers and end-users, from concept to completion, A-Z. This mindset was reflected in a digital activation toolkit, including brand anthem, interactive corporate brochure, and rich social media content marketing – which all played a part in the virtual brand launch of Zentia to a very excited market.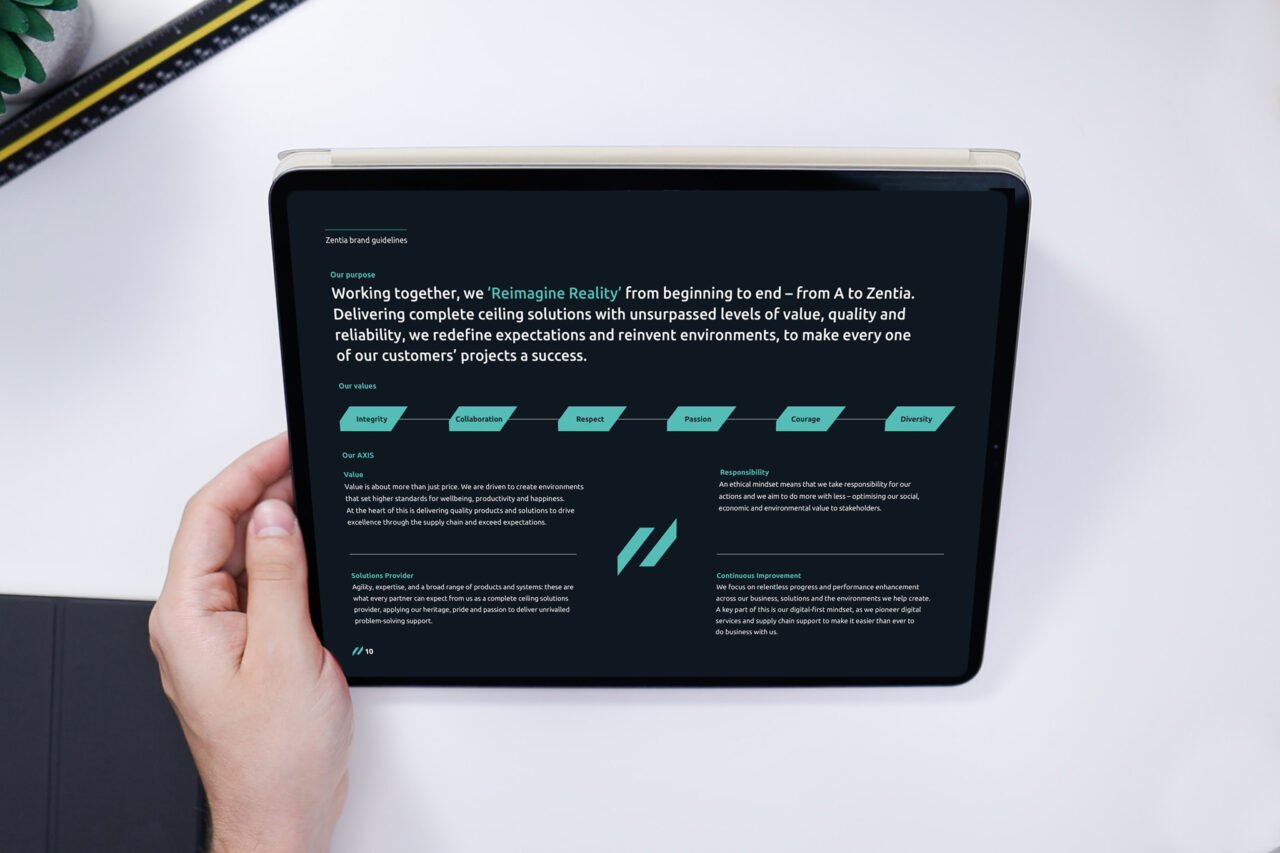 The story continues.
Establishing the foundations for long-term success, our brand and business transformation strategy has given real direction and clarity to Zentia, while also elevating the status of the business. Remarkably, just three months after launch, Zentia-related searches (21%) overtook Armstrong-related terms (19%),
Now, instead of simply offering fibre tiles, the messaging is about enhancing and reimagining experiences for architects, designers, contractors and end-users alike. Having helped Armstrong Ceiling Solutions reimagine its business, we're supporting the phased transition from Armstrong to Zentia, step by step, A-Z.
"Our purpose was to introduce this new brand to market, and now, thankfully, and with a lot of hard work all round… mission accomplished."
Graham Taylor, Director, Sales & Marketing