Navigating B2B customer experience in a changed world.
The world has been forever changed because of COVID – and the world of B2B is no exception. While the customer experience remains as important as ever – possibly even more so – the landscape has fundamentally shifted, and our existing maps need redrawing. Or even throwing away… In a look back at Breathe, our B2B marketing recovery playbook, we revisit the key CX principles that marketers need to prioritise as businesses step out into a new era.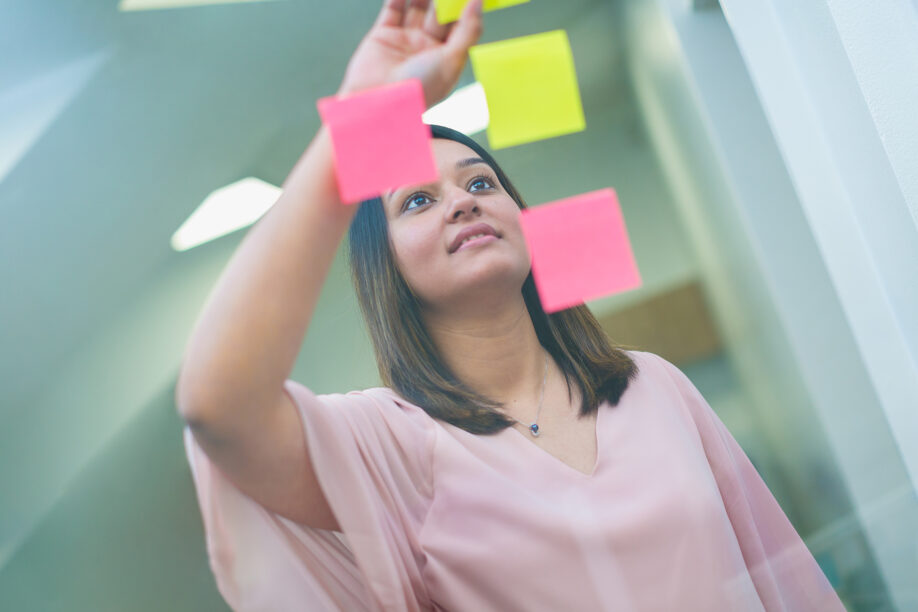 What once was, now isn't. The customer experience has changed. COVID was the catalyst, closing trade counters and the nature of face-to-face interaction, and turbocharging the pace of digitalisation for businesses everywhere.
The way people engaged with brands changed. So did decision-making processes and buying behaviour. Brand loyalty still exists, but it's harder to earn and keep. And it's not just the customer journey that has been transformed. The whole landscape has evolved dramatically through a series of digital jolts and seismic shifts – and while physical interaction is returning, it may never do so in the same way again. Quite simply, the customer maps we once had don't work in this new geography and we use them at our peril. Instead, we need to create totally new ones.
Back in 2020, we argued that CX is as much about exploration as it is experience. That's just as true now, as businesses take tentative steps towards recovery and look to build – or re-establish – powerful connections with customers. Today, more than ever, smart CX is about mapping the way across digital-first touchpoints, omnichannel journeys and frictionless interactions to find the path of best fit. This is the key to delivering sustainable value for your brand, while strengthening your reputation as a partner that's easier and better to work with. Without backtracking over old terrain, let's quickly look at three key CX lessons.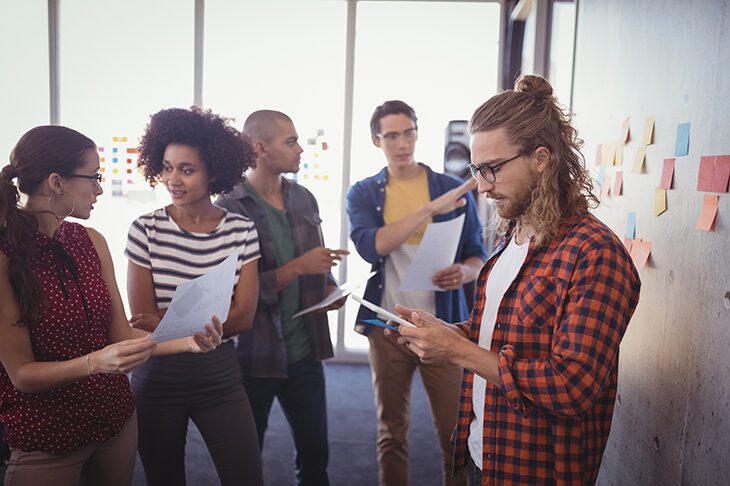 Switch to a digital-first mindset.
Change always follows upheaval – meaning B2B brands and businesses need to remap their CX to reflect the new order. As we've seen across virtually every sector, there's been a wholesale shift away from offline touchpoints in the B2B buyer's journey. Customers are shifting from the trade counter to online interactions, while events continue to migrate to digital channels. Even as offline interactions return, digital will hold the territory it's gained – and expand further. So, from awareness to conversion, it's important to get a handle on these touchpoints and pivot to a digital-first approach.
That all starts with research. Persona profiling has never been more important for uncovering customers' needs, pain points and perceptions – but it needs to be done right: objectively, based on qualitative and quantitative data, not on conjecture. Only by getting these personas correct can we actually map them to our touchpoints.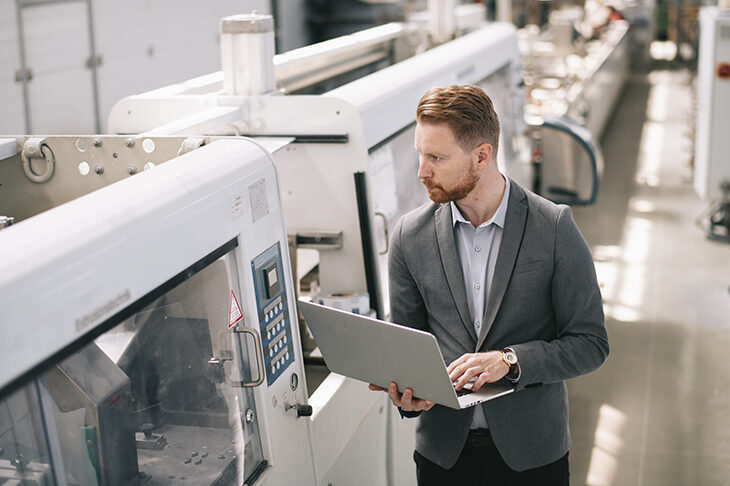 Research, of course, goes both ways. While you're getting a handle on your customers, they're getting their own view of you and your competitors. Especially in complex, technical B2B markets, customers need quality, accurate information to support the consideration phase of their journey, whether it's datasheets or white papers, or even richer content like webinars, podcasts and livestreams. The dominance of digital post-COVID opens up a world of tools to help you align your brand and your customers from the outset.
Finally, of course, journey mapping needs to be collaborative across your business – agility takes centre-stage from the days of static documents. To remain constantly relevant, customer journey maps need to continually iterate and improve based on new and emerging feedback and insight. Which brings us, handily, to the next stage in the journey.
Adapt as the journey demands.
Agility is, again, the key to effective CX. In what many people, many times over, have called 'unprecedented' times, change is the only constant. As we emerge from the pandemic, change will continue. B2B marketers therefore need to continually reappraise every customer touchpoint across paid and owned channels alike, to ensure the right message in the right channels reaches the right people.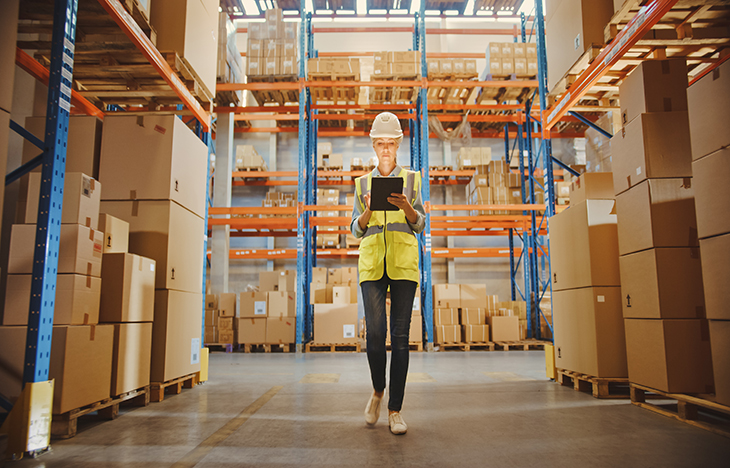 This is especially the case in a time-starved and attention-deficit business world, when leaders are under intense pressure, and 'blanket' messages are auto-filtered out as unnecessary noise. By staying attentive to customers' needs, we can offer useful digital tools and experiences that may prove to be far more effective in cutting through the crowd. Essentially, it's no longer enough to buy awareness. It needs to be earned.
In tandem with this attentiveness and awareness, also remember to pay attention to your lead-generation touchpoints. Constantly improve your website's UX. Optimise your keywords and content. Keep on evaluating, learning and fine-tuning. Because it's these touchpoints that will keep the customer journey, and experience, on track. Whichever direction it takes.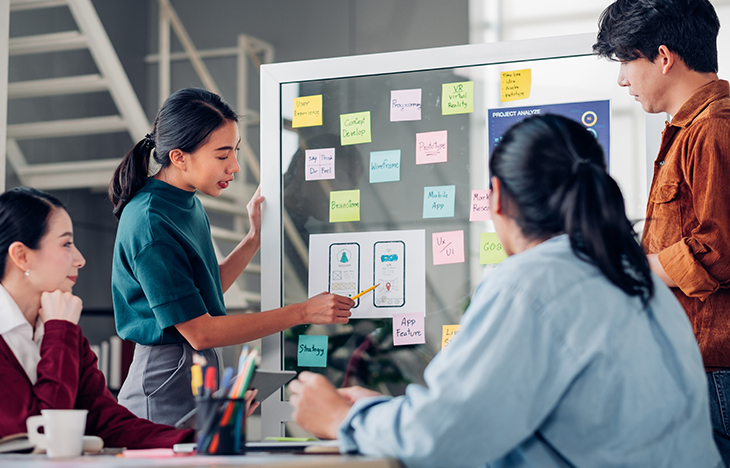 Stay by your customers' side – not in front of them.
As a post-digital B2B marketing agency, it hasn't come as much of a surprise, but we've seen a strategic and long-term shift in our clients' approach to the experience space. As we mentioned earlier, the once-staid world of B2B marketing has made a pivotal move to a sustained virtual and digital communications mix – not simply using it as a stopgap.
That's great news, because digital gives us more sensitivity to customer needs, and a greater opportunity to act consultatively. Touchpoints are no longer just a 'shop window' or a chance for a hard sell. Rather than getting in front of customers, they're check-in points to help us stay by customers' sides, ensuring they get the best experience, and allowing us to guide them seamlessly to the point of purchase and beyond. And that's a better outcome for everyone.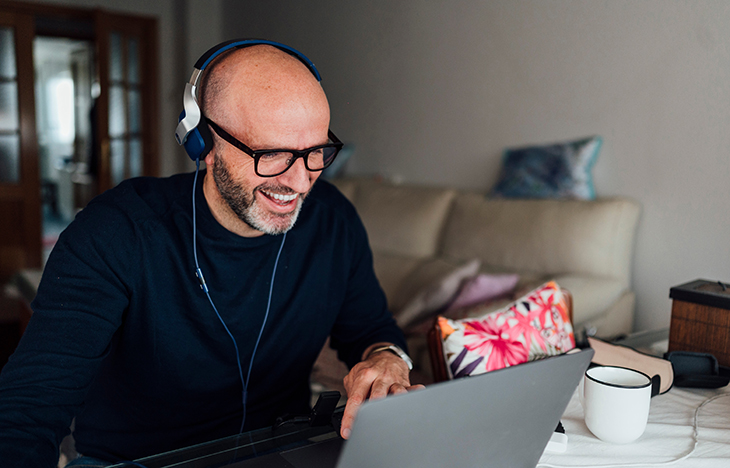 With all this to consider, it's an exciting time in CX land – and everyone's welcome. Customer experience is no longer a discipline in itself or a standalone function; it's a business-wide consideration. Your CX maps should be available across your organisation, with collaborative feedback, insight-gathering and improvement from all teams. Quite simply, the more information and data that can be brought to the process, the more accurate and relevant the result.
After all, in a post-digital era, the landscape will continue to shift and evolve with new features, opportunities and even potential dead-ends to catch us out. Accordingly, our maps need to be continuously revised and updated to reflect the new geography. We're in new territory, on a fascinating journey – so let's make sure we navigate it with the right tools.
Want to know more?
Get Breathe, our essential marketing recovery playbook direct to your inbox. Simply email breathe@wyattinternational.com for some fresh thinking in a post-digital world.