GA4: The Future of Google Analytics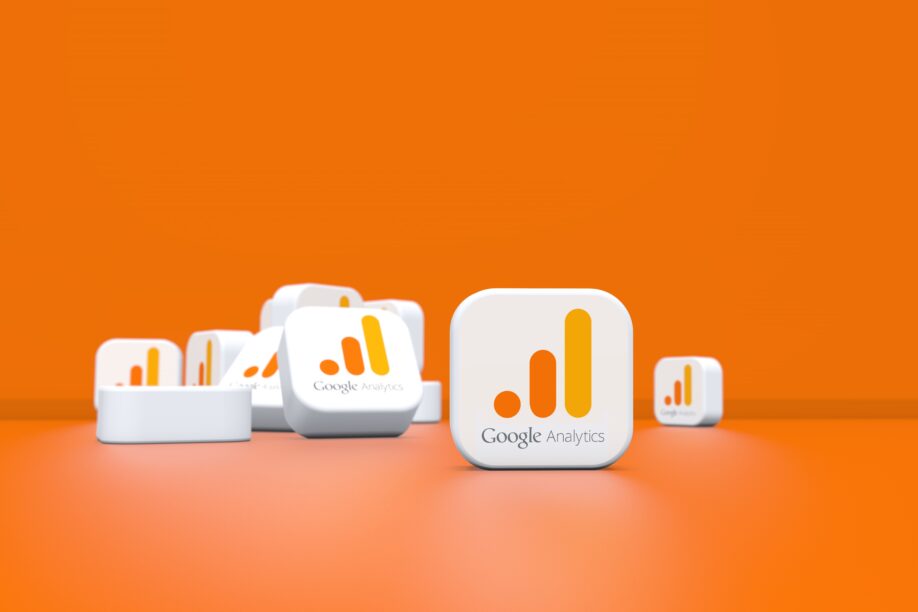 In October 2020, Google responded and launched a new Analytics platform, Google Analytics 4 (GA4), which doesn't use cookies or track IP addresses. While it has run concurrently with the existing Universal Analytics (UA), Google announced in March that it will be sunsetting UA during July 2023, in favour of GA4. So, what is GA4 and how does it work? Here's everything you need to know.
With tighter regulations on how user data is shared across the internet, and access to cookies now strictly down to the individual, more users are choosing to opt out of being tracked online. This prompted digital marketers to question what the next tracking platform would be and how it would rectify a growing problem for the industry.
What is Google Analytics 4?
GA4 is the latest version of Google Analytics using both data from apps and websites collectively. It was originally called "App & Web" while in beta but was renamed to GA4 to offer better clarity for users. All existing UA properties can be upgraded to GA4, so it can collect new data without impacting your existing GA account until it is finally retired. However, to do this we will need to set up a GA4 profile that runs concurrently with existing UA profiles. Google itself has the following advice:
"After July 1, 2023, you'll be able to access your previously processed data in your Universal Analytics property for at least six months. We know your data is important to you, and we strongly encourage you to export your historical reports during this time." Read more at Google
To avoid potential and historical data loss it is well worth looking into setting up GA4 as soon as possible.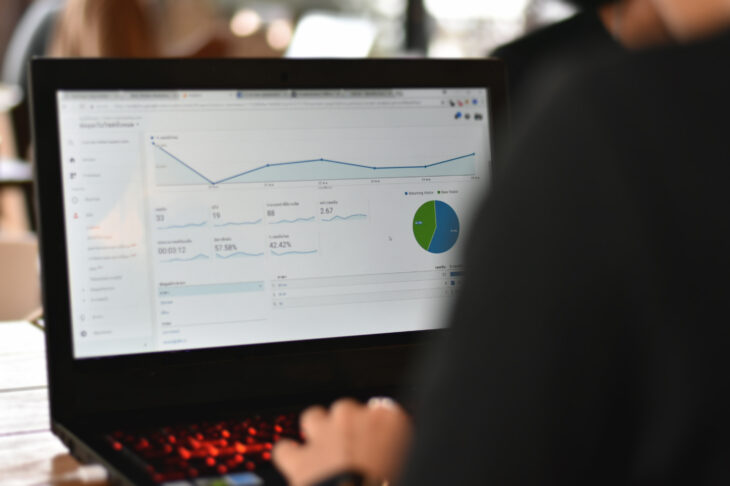 What are the key features of Google Analytics 4?
Described by Google as "a next generation approach to privacy-first tracking, x-channel measurement, and AI based predictive data all at once", Google Analytics 4 comes with many features that make it very different from its predecessor.
Firstly, GA4 is an event driven data model, using website events as the primary way to present data. In Google Analytics 4 properties, every "hit" is counted as an event, meaning there is no distinction between hit types – if someone views one of your website pages, an event is activated.
GA4 also uses behavioural and conversion modelling to provide marketers with a more accurate view of a campaign and its performance. Behavioural modelling for consent mode is one of the most important features provided by GA4. We already know that if businesses implement consent requirements for their Analytics cookies, they will experience some level of data loss, meaning gaps in reporting where users have declined Analytics cookies. GA4 intends to fill these gaps by modelling the behaviour of users who have rejected cookies, based on those of similar users who have accepted them.
What are the differences between GA4 and Universal Analytics?
There are a few key differences between GA4 and UA. The most obvious change is the new dashboard that welcomes users. It's a more streamlined approach to reporting with several reports moved or shelved altogether. Popular dimensions and metrics such as "medium" and "bounces" haven't carried over to GA4. However, there are new measurements in place to provide a more comprehensive analysis of user activity. Google believe this to be a better approach, but it will mean changes to some of the data we have become both familiar with and reliant on. Reports will likely need to be updated!
Cross Platform Tracking.
A key reporting difference is that Google Analytics 4 allows you to track analytics on websites and applications. Users can now be tracked across a website and app, giving users a complete customer journey overview including acquisition, engagement, monetisation and retention. This invaluable information will allow you to build better cross-platform journeys for your users and more accurate customer models.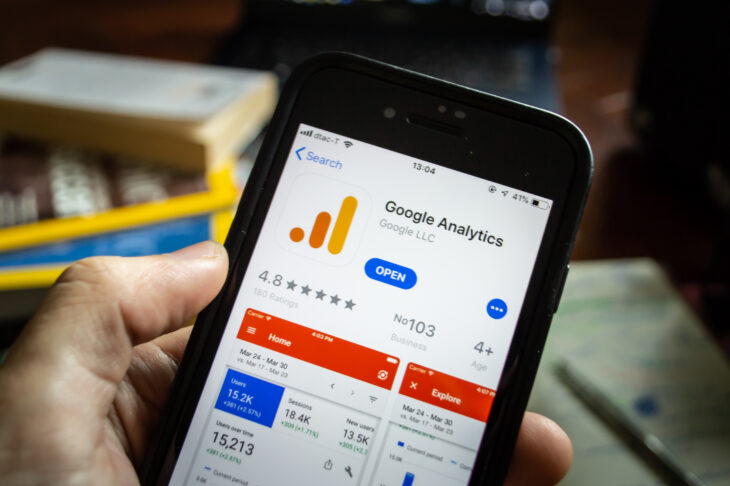 All user interactions are events.
Goals as a separate idea will have gone and it will be conversions all the way. In UA, conversions are currently measured by setting up goals and eCommerce transactions, but in GA4 there is no distinction between the two because all conversions are measured via GA4 events.
In basic terms, an event is any button click, whether that is time spent watching a video, a page click or anything else that a user does on your website or app. This allows for a fuller understanding of how users interact with your website and/or app. These events are all measured by default, meaning no additional tracking is required – however it will be needed for some conversions such as third-party forms.
Predictive Insights.
GA4 also allows users to access predictive metrics to make data-driven decisions. The AI metrics include purchase probability, churn probability and revenue prediction. With this information, you can build audiences based on your predicted behaviours. With this data, you can target these audience types on Google Ads or social media. You can even create custom funnels for different audiences based on their needs.
AI insights will improve over time as it collects more website data.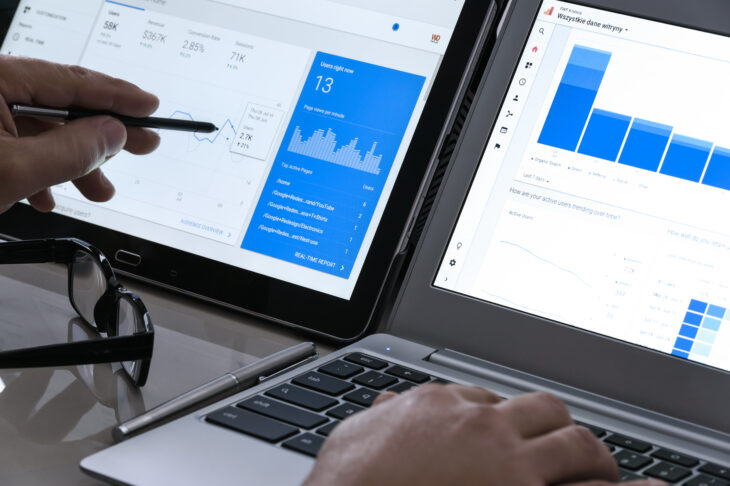 How does GA4 benefit businesses?
There are many ways in which GA4 will benefit businesses, for a start it is more flexible, scalable and efficient, making it easier for businesses to use.
Cross device and cross platform tracking is of huge benefit and means businesses can view their customer journey across their website and supported apps. Plus, behavioural modelling and machine learning will enable intelligent business insights, resulting in deeper, more valuable reports and analyses. This in-depth analysis means businesses can respond to data and achieve specific goals.
Finally, if a business is using a platform, such as Google Ads, which offers auto-tagging for campaigns, then this feature can be used to automatically tag any campaigns run through that platform.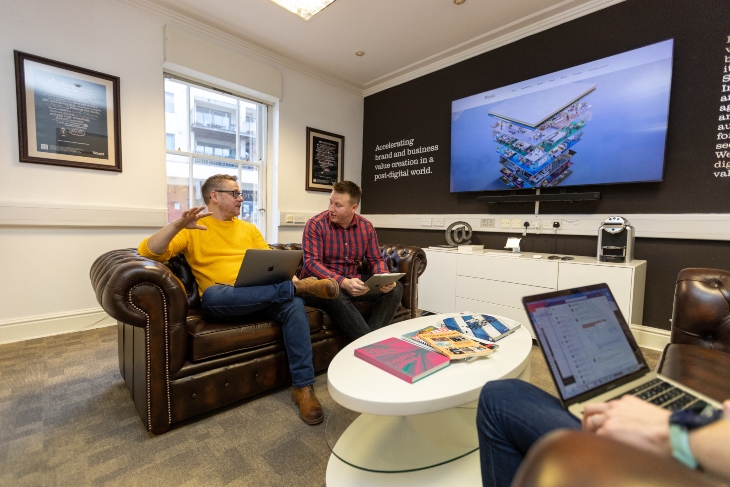 Supporting your switch to GA4.
There is no doubt that GA4 has bundles of benefits, but it is a complete rebuild of the Google Analytics that businesses are familiar with. That's why it's important to get in touch with the experts to ensure your business can maximise the new reporting potential that GA4 has to offer.
If you are looking to move your analytics to GA4, or want to refresh your digital strategy, then get in touch with the team at Wyatt by emailing us at hello@wyattinternational.com