Armstrong Ceilings' ambition is to inspire great spaces. Part of this is its annual A Book: a directory of its biggest projects – but after the formula started to age, Armstrong needed to inject new life into its showcase.
Armstrong's products can be found in the world's best buildings – and its annual A Book is a showcase of its most prestigious EMEA projects; an image-led coffee-table book for the region's biggest architectural practices. The problem, however, is that once a customer has flicked through it, it's left to gather dust. To stop this, Armstrong wanted an inspiration piece architects could turn to every day for insights, ideas and statistics. It wanted to get the A Book off the coffee table and onto the desk.
01
Explore.
Our answer lay in the pages of the world's greatest lifestyle, technology, fashion, politics and commentary magazines. Looking to the kind of periodicals people pick up every day, we examined how they blend elegant visuals with deep, incisive content that readers actually take time over; that informs their lives and work, and ensures they keep coming back. And, most importantly, content that makes readers look at the world around them (and perhaps the ceilings above them) in a new light.
02
Excite.
With this inspiration in hand, we turned the A Book away from being a directory or catalogue, and into an essential guide that put Armstrong's 'A' at the core of its theme: Ambition. Achieved. Our new edition would go beyond simply showcasing project imagery, and would instead tackle the big trends and challenges facing architecture and construction throughout the year: aesthetics, acoustics, sustainability, wellbeing and installation. Combining original, insightful content in feature articles throughout the A Book with relevant case studies would not just visually inspire architects, but would help guide them in their day-to-day work.
03
Express.
Delving deep into our topics and features, we mapped out the latest thinking that could shape architects' future projects – and then matched this thinking with real-world examples that brought it all to life: full-bleed, full-colour project shots with succinct summaries and product details – all wrapped up in an arrestingly designed publication that disrupted conventional brochure and collateral principles.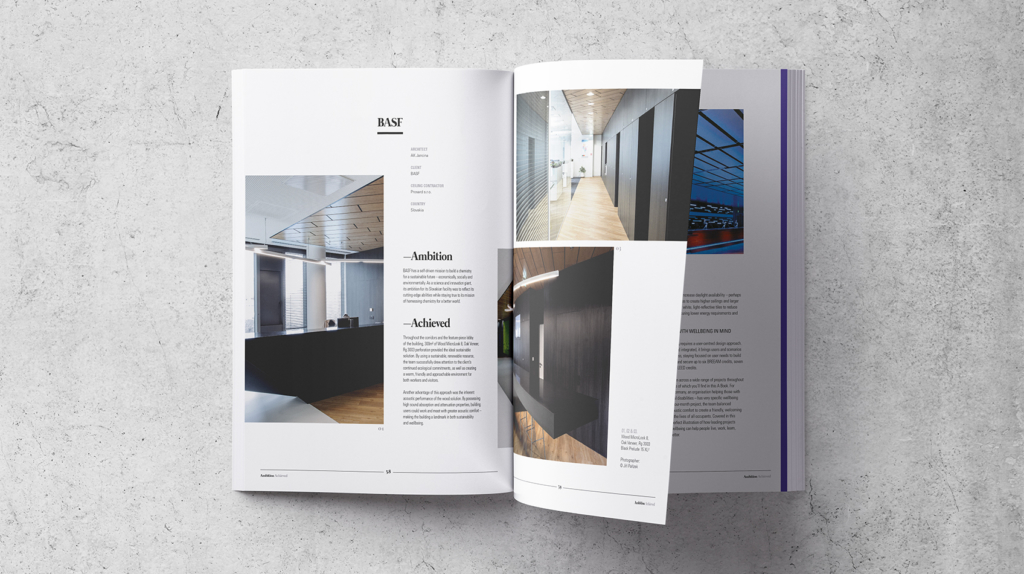 04
Excel.
Meet the new A Book: 92 pages of insight, ideas, imagination and inspiration – everything you need to know about solving the great challenges of ceilings, architecture and designing unique spaces. Something that every architect would keep to hand, and refer to when facing their everyday design challenges – a real break with the past, heralding a new direction for Armstrong: not just as a ceiling supplier, but as a knowledgeable and open inspiration partner for architects. Meanwhile, we're continuing to help Armstrong achieve its own ambitions. We're keeping the conversation going online and offline, building on more A Book content. And we're extending Armstrong's ambitions elsewhere, taking the brand into new territories and worlds – both real and virtual…