One of the first prosthetics companies to treat veterans of the Great War, RSL Steeper had a proud history of ground-breaking advances in healthcare.
However, a series of more recent mergers had created organisational and communication issues across the business, while a more cost-driven NHS also posed challenges. Realising it needed to break into new markets, the board decided it was time for a total overhaul of its strategy. It identified three key elements: to refocus its business, refresh its brand story and motivate the workforce. In other words, it wanted to build a new brand from the inside out. We were tasked with developing the platform.
01
Explore.
We began with an in-depth exploration into RSL Steeper immersing ourselves in the history and interviewing customers to understand their perspective – especially around the name and the perceived strengths of the business. We also ran a number of employee workshops, primarily to unearth the proposition and stories which lay at the core of the business. These revealing sessions showed that there was a lot of passion and pride in the work of RSL Steeper – a fact we could leverage.
02
Excite.
From our research, we formed a brand strategy which included dropping 'RSL' from the name to form 'Steeper' – which is how everyone referred to the business. We developed a number of brand platforms, each with a new proposition inspired by employees and leading to the adoption of 'Creating life's turning points, together'. This tapped into the more emotional aspects of the brand, and how it inspired a sense of pride in employees, and achievement in the end-user.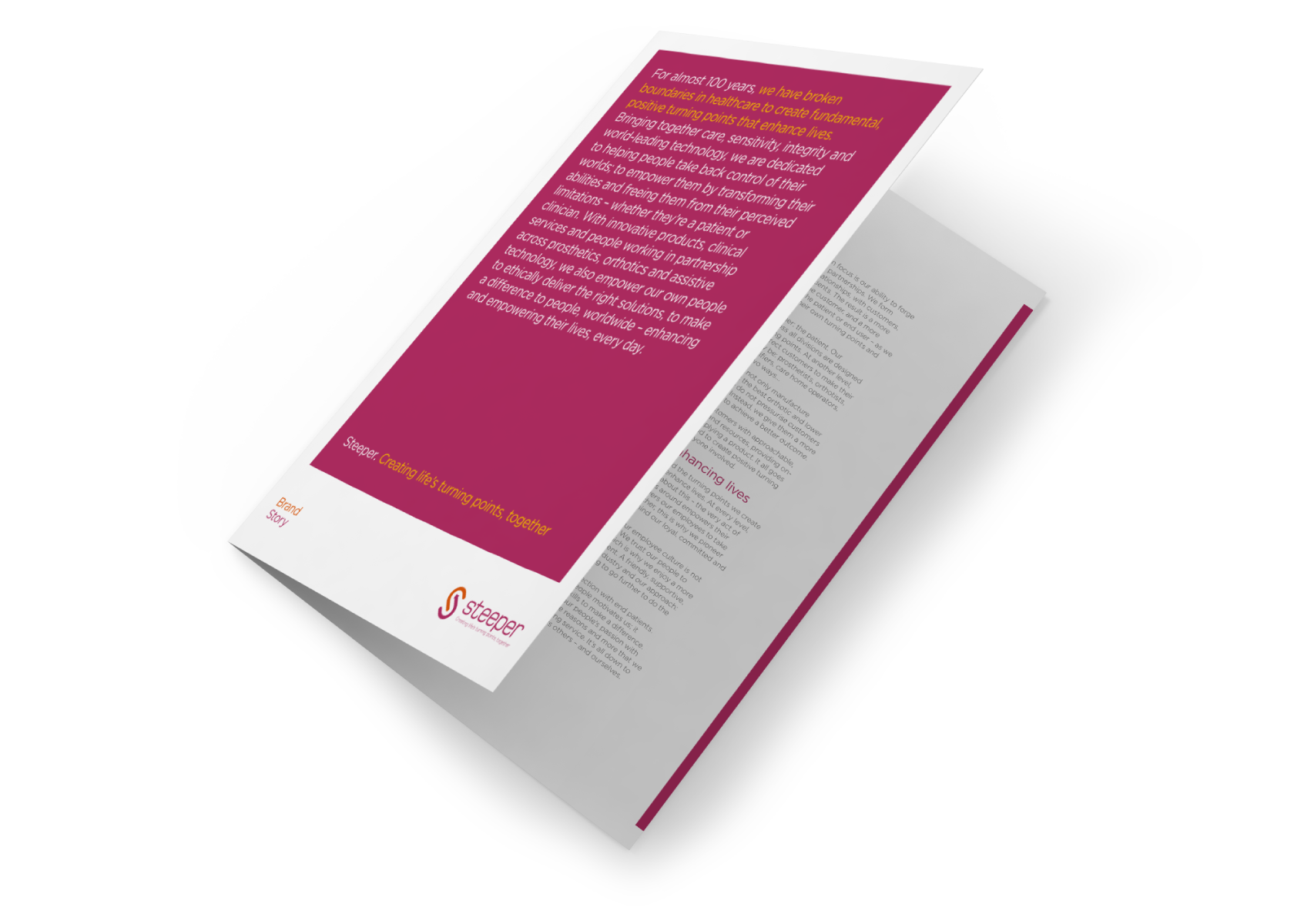 03
Express.
We developed 'Creating life's turning points, together' into a powerful brand story, supported with a new vision, mission and values to bring employees together. We then delivered an integrated campaign (website, collateral, advertising, direct communications and social media) centred on case studies and testimonials which demonstrated life's turning points. In effect, we'd built the brand from the inside out, connecting everyone to a more emotional core.
04
Excel.
The campaign has received significant acclaim for its innovation and work in healthcare, and has helped reinvigorate the company, bringing in new customers and reopening dialogue with old ones.
"The rebranding exercise has swept through the business, changing everything – the way we look, the way we work together, the way we promote ourselves and – most of all – the way we all feel about the brand. We're now in good shape to re-establish ourselves as a true market leader."