One of the world's most prestigious centres for management learning, Cambridge Judge Business School (CJBS) runs Executive Learning Programmes for experienced industry professionals.
For years, these have been a mainstay of revenue for CJBS. However, a worsening global economy and increased competition meant it needed to be more proactive in seeking out customers. Wyatt was invited to apply its prospecting techniques to one particular program – Advanced Leadership. Focused more on building long-term relationships and brand-awareness than short-term sales, we recommended a highly targeted approach with social media prospecting at its core.
01
Explore.
In order to be highly targeted, we recommended focusing on the financial services sector – a key source of customers over recent years. For insight and understanding, we undertook an in-depth audit of CJBS's competitors; reviewed key financial sites and forums to understand what key trends and topics were occupying the industry; identified key publications and their editors and used LinkedIn to make a shortlist of key targets from within the UK's financial services industry and identified influential industry writers, bloggers and ambassadors.
02
Excite.
We formulated a detailed content marketing plan which identified thirteen key topics, each supported with an informative article or case study (such as 'Strategies and Outcomes in Merger & Acquisitions'). These articles were peer reviewed by our network of specialists, who also agreed to help channel and share this material with their own audience. We also created an optimised LinkedIn profile for the course director of the Advanced Leadership Programme who was to become the face of the campaign.
03
Express.
The campaign launched in October 2015. Each week, for thirteen weeks, we released a new article on the CJBS Executive Learning blog with invitations to view the content via LinkedIn. Additionally, we used our 'hit-list' of key influencers to share the stories with their own networks. Campaign momentum quickly gathered pace, and all response was monitored on a user-friendly dashboard so we could watch the commercial impact of the campaign unfolding. This was supported with LinkedIn activity where – acting on behalf of CJBS – we would invite connections and share content, passing all leads on to CJBS.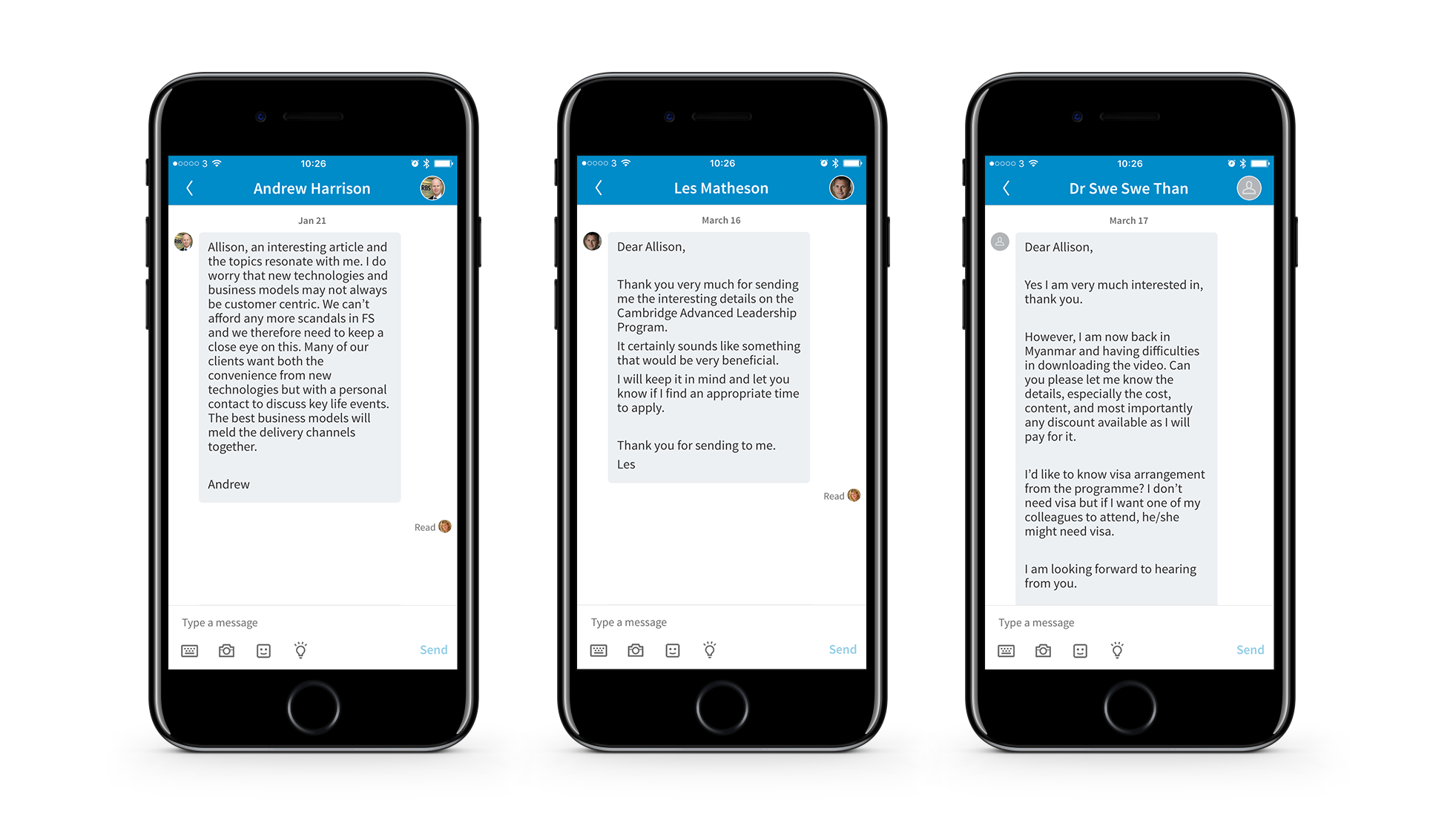 04
Excel.
Of 650+ LinkedIn invitations, over 300 connections were made – an impressive 53%. Twitter also showed significant activity, demonstrating that the campaign had gathered its own momentum. The activity resulted in valuable coverage in leading financial publications, including The Global and Banking Finance Review, Banking Technology and newbusiness.co.uk. There have been over 120 views of the Advanced Leadership Programme, with over 20 direct leads (including with the CEO of a major European bank) – and, beyond this, the campaign has received widespread recognition outside the financial community too, including receiving a prestigious PRCA award for effectiveness.