SIFCO ASC
Getting brush plating on the map for petrochemical repairs.
SIFCO ASC needed a way to generate leads in an industry where brush plating is seen as a non-traditional repair method, so we set about on a digital marketing campaign that would help petrochemical specialists realise the benefits of choosing brush plating.
The story.
With much of the world still reliant on the petrochemical industry, maintaining consistent operations is critical to meet demand. Which is why the sector needs robust repair protocols to minimise downtime. Machine and plant repairs must be completed within a strict timeframe, otherwise operators stand to lose lots of money.
Traditionally, the petrochemical industry turned to welding, tank plating and thermal sprays to carry out repairs – but logistics, the need to disassemble equipment and the long-term performance of using these methods means that the SIFCO Process® presents a viable – and highly attractive – alternative.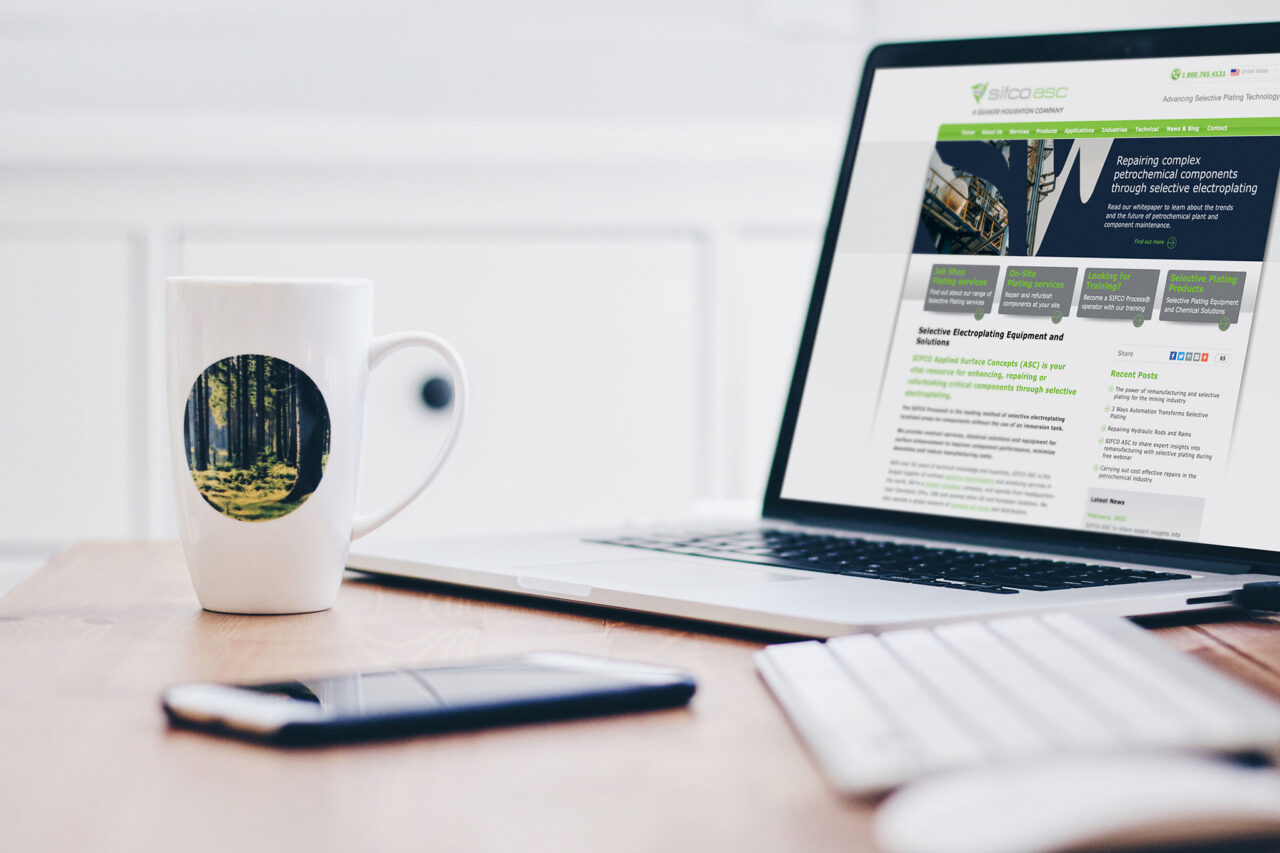 The thinking.
We began by taking a deep dive into the world of petrochemicals through an Explore session with SIFCO ASC's experts. We drilled down to understand customers' challenges and gain key insight into how making the switch to brush plating would drive value. It was clear that SIFCO ASC needed a marketing campaign focusing on educating its audience, to show them the science behind brush plating and turn this method from its perception as a non-traditional method, to the go-to repair process.
We developed a digital marketing strategy that leveraged the expertise and insight of SIFCO ASC's brush plating specialists to educate the petrochemical sector. This required a channel strategy that was drawn together by a whitepaper, providing readers with a thoroughly-researched case for carrying out petrochemical repairs with brush plating. The channel strategy leveraged earned and owned platforms, from utilising SEO tactics such as optimising on-site content on SIFCO ASC's website where the whitepaper was hosted, to engaging with the petrochemical media through an international PR campaign and creating a social media strategy and targeting petrochemical engineers on the LinkedIn.
The execution.
We developed the whitepaper, "Repairing Complex Petrochemical Components Through Selective Electroplating", hosting it on a newly designed lead gen landing page, directing visitors to download it to learn more about this cost-effective, sustainable choice in the petrochemical industry. To help launch the research, a series of articles were written and sold in to key media titles with coverage appearing in titles such as Processing Magazine and Hydrocarbon Processing, in addition to focusing efforts on LinkedIn through paid and organic content. As a result, in the course of three months the whitepaper received 43 downloads, with 4 leads direct from the social media campaign – big numbers for the highly targeted and discerning petrochemical audience.
The website saw a dramatic increase in traffic of 475% due to content optimised for organic traffic and high quality link building through PR and social media activities. Even more so, the business saw a 1,420% increase in web traffic when compared to the same period the previous year. 106 petrochemical specialists engaged with the campaign on social media and 432 website visits were recorded. 56% of these visits were driven by direct traffic and just over a quarter came from Google search.
Leveraging digital and traditional PR, and organic and paid social media, we set about educating the petrochemical industry on the benefits of using SIFCO ASC's brush plating method for repairs.
The story continues.
Taking this multichannel approach to drive awareness for the use of brush plating as a traditional method for petrochemical repairs proved successful. So much so that we continue to support SIFCO ASC in leveraging its expertise in other vertical sectors through traditional and digital PR efforts and social media marketing to keep the conversation going on selective electroplating as the choice for equipment and plant repairs.