Off The Trail: The most inspiring campaigns during the COVID-19 pandemic
Our PR and Content Executive, Annie May Heno, highlights the best marketing campaigns that have come out of the pandemic.
On the flipside to our monthly 'On the Trail' blogs, we haven't just been noticing the usual great marketing and advertising campaigns, we've also discovered some inspiring initiatives to encourage everyone to stay safe during COVID-19.
With the world currently facing a great deal of uncertainty, many multinational brands and businesses are going above and beyond to help protect the safety of individuals.
During these tough weeks, here are some of the campaigns we've come across already.
Airbnb Hosts to Help Provide Housing to 100,000 COVID-19 Responders
Spotted by: Chris Hill
Airbnb owners have recently announced a global initiative by opening their doors to healthcare professionals, relief workers and first responders, and providing them with free or subsidised housing during COVID-19.
Aiming to accommodate 100,000 healthcare service professionals, Airbnb will abandon all fees in order to house staff with places to stay, close by to work, while they continue to care for and protect the lives of vulnerable patients.
Hosts that also wish to help out, can do so by clicking here.
Medical and healthcare workers in the UK who require accommodation, can also register here.
It's Not a Real Guinness Ad. But It's a Perfect Guinness Ad
Spotted by: Ben Baker-Hollyhead
Another excellent ad making the rounds was one for Guinness,  but wasn't actually created by Guinness. The spec piece was so well executed that Guinness applauded its creativity. This effective visual that encouraged people to self-isolate during the COVID-19 outbreak was actually the work of a freelance copy writer unassociated with the dark Irish dry stout brand.
Praised for its perfection, the creative campaign cleverly creates an optical illusion while secretly marketing the invisible Guinness brand.
A clear and concise idea uses the colour of the beverage and substitutes what typically would be the foam head, with a cream leather sofa to encourage people to stay at home.
A striking yet simple visual grabs attention and does exactly what it intended to do – warns the public to stay indoors.
To take a look at the campaign, click here.
BrewDog set to deliver first batch of hand sanitiser to
Aberdeen hospital
Spotted by: Mark Fones
Last week, another worldwide beverage brand, BrewDog, announced plans to distribute branded hand sanitiser to hospitals, free of charge.
The Scottish brewer wanted to help those in need amid the coronavirus pandemic and provide additional bacterial hand gel to health services across Aberdeen's Royal Infirmary Intensive Care Unit.
The innovative yet thoughtful idea provided healthcare members with sanitary ware that's seemingly impossible to purchase in supermarkets worldwide.
Read the full article and to take a look at the branded sanitiser here.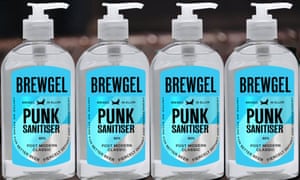 McDonald's promotes social distancing
Spotted by: Annie May Heno
As the spread of novel coronavirus continues, corporate conglomerates like McDonald's are also doing their bit to stop others from socially interacting, not least by closing their doors.
With the government encouraging everyone to practice social distancing, standing at least 6 feet apart from others, agency DPZ&T teamed with McDonald's Brazil and pulled apart its memorable golden arches to reveal the social distancing.
A very smart and fun way to persuade people to listen. Click here to take a look at the concept.
To make sure you don't miss out the latest marketing campaigns to support COVID-19, follow us on twitter.