Marketing
PR & Content
Social Media
Movin' on up: The PR Week Top 150
That time already? Not letting a pandemic get in the way of a good league table.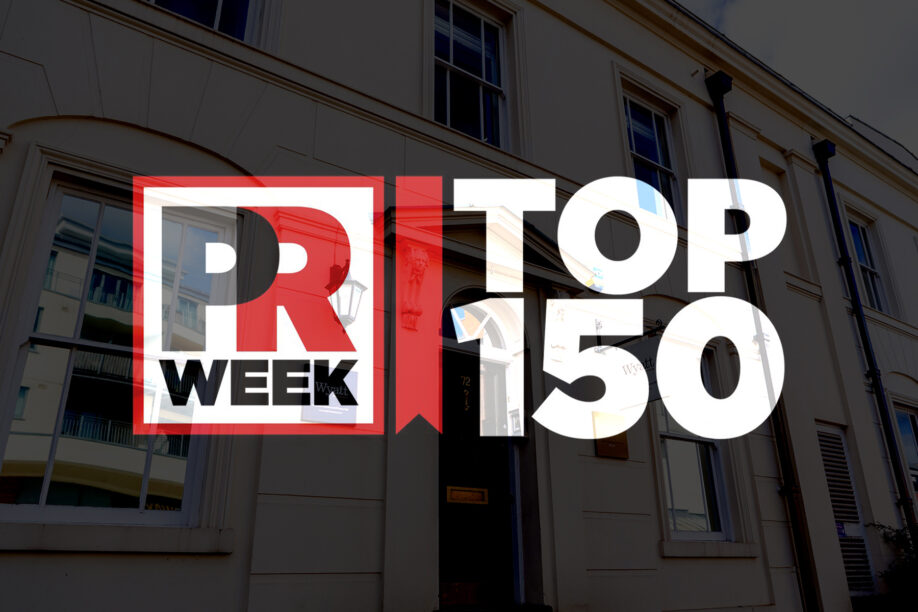 PR Week has announced its Top 150 UK PR consultancies for 2020. And rather than just cementing our place, we're climbing the ranks…
In 2019, we were pleased to clock in at number 116 in the annual nationwide rankings. And this year, we've risen 10 places to 106, making us not only one of the Midlands' top PR consultancies, but its leading specialist in multi-channel B2B brand and business transformation.
That's all thanks to the talent and dedication of our team, and the commitment and confidence of our clients.
Good news in challenging times
To borrow from Paul Heaton & Jacqui Abbott's increasingly ubiquitous lockdown anthem, for many, a good day these days can be hard to find. So, when the Top 150 was announced, you could forgive us for doing a little socially distanced dance in the street – because not only does that put us shoulder to shoulder with the UK's best agencies and consultancies, but it reinforces our position leading the way in both the Midlands and the B2B sphere.
There are also plenty of other reasons to be cheerful, looking at the company we're keeping in the UK's marketing and PR sector. The league table shows that, in the post-normal world we're living in right now, our industry remains a thriving, diverse and driven community.
And, however things continue to change this world, whenever new challenges arise, and wherever each of us may be working, we're all still in it together – and we're all smashing it out of the park.
One big thank you
We promise no overemotional Oscars speeches, but we do need to say a massive thank you to our colleagues and clients – because, without you, we couldn't continue doing what we're doing in this new reality.
Post-normality has forced us to realign our priorities and reassess the value within our businesses – and that value isn't just in commercial returns and financial bottom lines. It's in all the qualities that our people bring to our work and that our clients bring to our partnerships. Together, these create the kind of sustainable value that's further elevated our place amongst the UK's top communications consultancies – and we're not stopping now.
'Together, these create the kind of sustainable value that's further elevated our place amongst the UK's top communications consultancies. We're not stopping now.'
Here's to the 2021 league tables. It'll soon be that time again…
Read more about we can help you transform brand and business performance in the post-normal world – or ask us directly at hello@wyattinternational.com